Hi All,
Spring has sprung but the change in seasons can cause many people to get sick.  This month I share with you important tips on sleep & stress management tools to help keep you and your family healthy this Spring.
Click on the Video Box below to watch the video
Stern Chiropractic is here to support you and your family on your path to Optimal Health and Well-being.  Make sure to check out these related newsletters for more information: De-Stress & Heal While You Sleep & Stress Management Tools.
April Sleep Special
15% OFF the Ultimate Sleeping Pillow*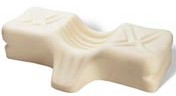 *Must mention this promotion at time of purchase.  Sale ends 4/30/19.
If you are interested in learning more or I can be of further service, please call my office at (847) 537-2225 (BACK) to make an appointment or schedule a FREE consultation.
Make Sure to "Like" Stern Chiropractic on Facebook & Twitter and share these newsletters with all your friends online!
PEACE