Hi All,
August is here, what a GREAT time of year!  Make sure to come visit the Stern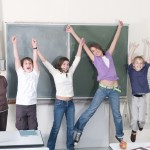 Chiropractic booth at the Rally for Autism 5K on the morning of August 17th (click HERE for details).
(Make sure to read all the way down to the bottom to see this months Healthy Lifestyles Educational Program on Health and Backpack Safety).
As all you parents know, August is the time where we get ready to send the kids back to school, Yeah!  Along with this comes the concerns of backpack safety.
Is my child's backpack too heavy?
What is the maximum weight my child can safely carry?
Will a heavy backpack cause my child to have back and neck pain?
Can a heavy backpack cause long term spinal and health problems?
---
Backpack Safety
Heavy and improperly worn backpacks can negatively impact the health of your child.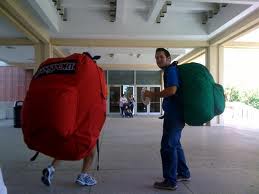 School-age children SHOULD NOT HAVE NECK AND BACK PAIN.  If they do have these pains, there is something wrong.  Get them to the pediatric chiropractor ASAP to be evaluated and to have the problem corrected before it causes more permanent and serious health issues.  (could this have been a contributor to your current aches and pains?)
Backpacks have emerged as an escalating health and safety issue.  In fact, the majority of school-age children carry backpack loads that are too heavy for their developing bodies.  If children are carrying too much weight on their backs and shoulders they may stretch or strain their muscles causing injury and damage to the spine and nerve system (the master control system of the body).
Studies have shown that long exposures to heavy backpacks can cause spinal pain that becomes chronic in nature and affects ALL activities of daily living.
Heavy or improperly worn backpacks promote abnormal posture development and can possibly cause or accelerate structural spinal abnormalities such as scoliosis.
The Consumer Product Safety Commission estimates that in 1999, approximately 6,174 emergency room visits were a result of spinal injuries stemming from heavy backpacks and in the year 2000, the use of heavy book bags and carriers resulted in more than 6,500 injuries.  THIS IS A PROBLEM.
This increase in back pain amongst children is not surprising when you consider the disproportionate amount of weight they carry in their backpacks (often slung over just one shoulder).
According to a recent study, the average child carries a backpack that would be the equivalent of a 39-pound burden for a 176-pound man or a 29-pound load for a 132-pound woman.  Of those children carrying heavy backpacks to school, 60% had experienced back pain as a result.
What Can We Do?
Make sure their nerve systems and spines are healthy – like you take your children to the dentist for regular check-ups & teeth cleaning, take your children to the pediatric chiropractor for regular nerve system check-ups and spinal cleaning.
Healthy children get injured less than unhealthy children – Proper diet, supplementation, exercise, restorative rest & a Healthy Nerve System will give your child his/her best defense against heavy backpacks.
Make sure your child's backpack weighs no more than 10-15% of his/her body weight.
Use both shoulder straps.  Lugging the backpack around by one strap can cause the disproportionate shift of weight to one side, leading to neck and back muscle spasm, pain and possible alteration of spinal curvature.
Wide, padded straps are very important.  Non-padded straps are uncomfortable and can dig into your child's shoulders.
The backpack should be worn higher up on the back between the shoulder blades.
The backpack should never hang more than four inches below the waistline.  A backpack that hangs too low increases the weight on the shoulders pulling the child backward and causing him/her to lean forward when walking.
Observe your child's posture.  If the child leans forward while walking, takes shorter strides while walking or uses his/her hands to protect the shoulders from the straps, it is an indication the backpack is too heavy.
A backpack with individualized compartments helps in positioning the contents most effectively.  Make sure that pointy objects are packed away from the area that will rest on your child's back.
Pack the heaviest books closest to the back with the lighter things further out,
Bigger is not better.  The more room there is in a backpack, the more your child will carry – and the heavier the backpack will be.
If the backpack is too heavy:
Take out anything that is not ABSOLUTELY needed
Instead of taking all notebooks home carry only what is needed for that evening in 1 homework folder.
Closely look at what your child is carrying and then talk to your child's teacher.  Ask if your child could leave the heaviest books at school, and bring home only lighter hand-out materials or workbooks…
Note: Proper Nerve System and Spinal Health are VITAL for children to avoid early onset of damage and degeneration caused by the chemical, physical and mental emotional stressors in their lives (including heavy backpack).  Schedule a Nerve System and Spinal Health evaluation with a Pediatric Chiropractor for your children TODAY!
---
Healthy Lifestyle Educational Series
Wellness – Mind, Body & Spirit
Dr. Stern will be offering monthly health and wellness programs to help you and your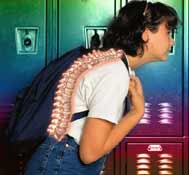 family Maximize your life Potential and Optimize Your Health.  Please join us on the 2nd Monday of each month at 6:30 pm for LIFE CHANGING information that will help guide you and your family to greater levels of Love, Joy, Health and Happiness.
Advance Registration is Required!
This month's program will be held on Monday August 12th at 6:30 pm at Stern Chiropractic and the topic will be Health and Backpack Safety (click this link to see full details).
View the Healthy Lifestyles Educational Series Schedule to see all our up coming programs and make your reservation TODAY!
---
Dr. Stern is an expert on Healthy Lifestyles and Wellness for children and adults.
Call Stern Chiropractic TODAY and let us help guide you and your family toward a HEALTHIER and more JOYFUL LIFE!
Peace