Hi All,
December is here and what a wonderful time of year, I hope it brings you great Joy & Cheer.  To facilitate this process, this months newsletter is a Guided GRATITUDE Meditation.  Try it!  It will enhance your state of well-being and provide you with a wonderful feeling of relaxation and gratitude.  I hope you enjoy it, re-watch it frequently and share it with all your loved ones and friends.
Click on the Video Box below to watch the video
For more Tips & Tools on how to bring more GRATITUDE into your life, click on the following link December 2012 – Gratitude.  To learn how to meditate click on the following link November 2014 – Meditating Made Easy.
---
Help Those In Need This Holiday Season
Holiday Food Drive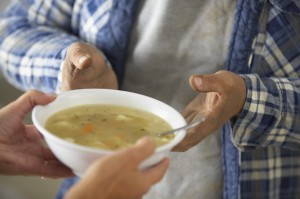 From November 1st – December 19th Stern Chiropractic will be collecting non-perishable food for the Vernon Township Food Pantry.  You can drop your food donations off at our office.
Be thankful for what you have, help those in need.
Click HERE to see a list of food items needed.
---
I provide these GREAT healthy lifestyle tips because Stern Chiropractic is committed to helping you and your family have a Healthier & Happier life!
Dr. Stern is a Specialist in Chiropractic Pediatric, Maternity & Family Wellness Care.
Call Stern Chiropractic Today to start your family on a Journey to Wellness!
Peace
* Re-release from December 2013