Hi All,
Happy November, happy Thanksgiving & remember as a little friendly stress management tip, 11/2/14 Daylight Savings Time ends so turn your clocks back an hour.
This month we complete our Stress Management series with a MUST SEE video on Meditation (my version of Meditation for Dummies).  If you have been curious about meditation but did't know how to get started, this short video is all you need to get started TODAY!  Don't put it off any longer, watch this video and take a Huge step in the right direction toward greater levels of Joy, Love, Health & Happiness.
Click on the Video Box below to watch the video
For more information on the Benefits of Meditation and How to Meditate, click on the following link: Demystifying Meditation.  To learn how to Enhance Your Breathing for Better Meditation, Stress Reduction and to Improve Your Health, click on the following Link: Deep Breathing.  To experience a wonderful Guided Gratitude Meditation, click on the following link: Guided Gratitude Meditation.
---
Help Those In Need This Holiday Season
Holiday Food Drive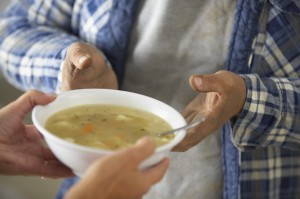 From November 1st – December 19th Stern Chiropractic will be collecting non-perishable food for the Vernon Township Food Pantry.  You can drop your food donations off at our office.
Be thankful for what you have, help those in need.
Click HERE to see a list of food items needed.
I provide these GREAT healthy lifestyle tips because Stern Chiropractic is committed to helping you and your family have a Healthier & Happier life!
Dr. Stern is a Specialist in Chiropractic Pediatric, Maternity & Family Wellness Care.
Call Stern Chiropractic Today to start your family on a Journey to Wellness!
Peace